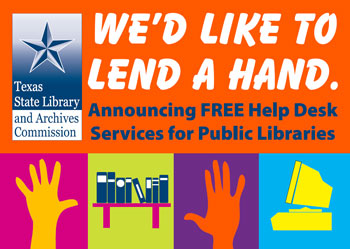 With NTLP's imminent closing, we want to remind you of other resources that are available to help your library.  One of these is the Library Support Service from Amigos, which provides consulting assistance at no cost for all Texas public libraries (Amigos membership is not required) through funding from TSLAC.   For more information, see the Library Support Service page at the Amigos website,
http://www.amigos.org/node/1459
Amigos will be at the TLA Conference in Fort Worth in booth #1119 in the exhibit hall.  Stop by and tell them NTLP sent you. 
Update: Amigos will be in booth 2408.